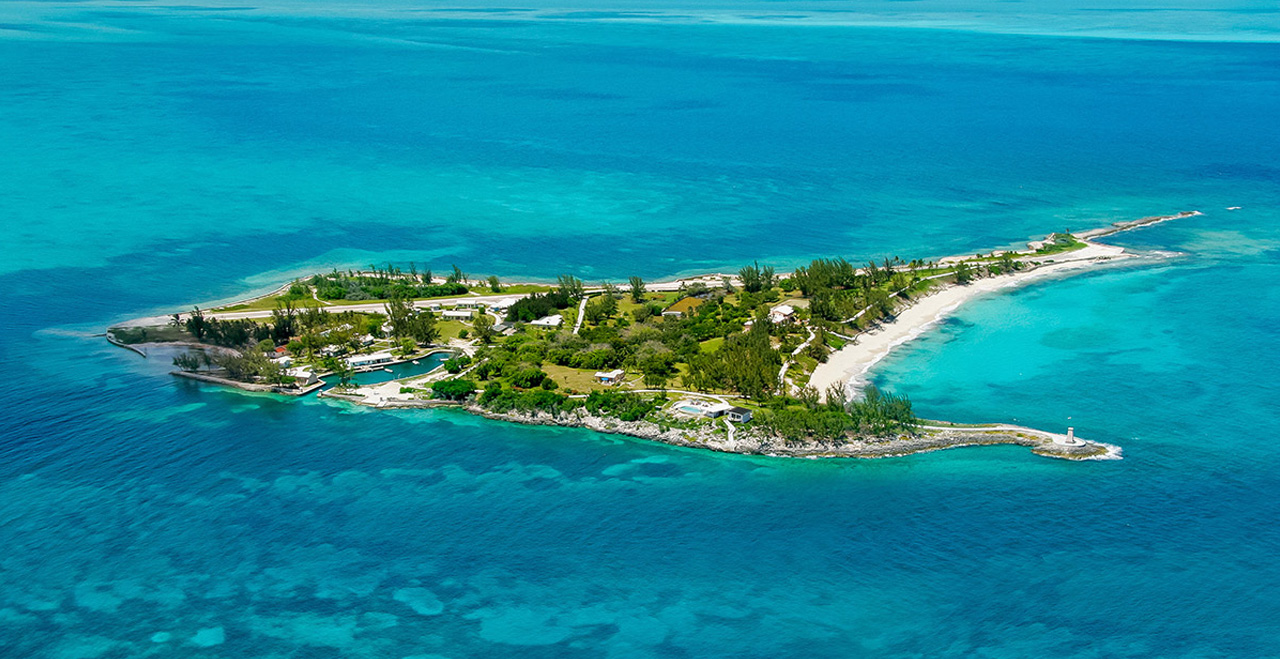 15 luxury private islands
Most millionaires and billionaires own private islands, or rent such islands to spend holidays with their loved ones. Renting an island is much more expensive than booking a hotel room, but luxury, privacy and tranquility are absolutely beyond comparison. Here are selected the 15 most luxurious private islands in the world, where the richest people of the world have a rest.
Song Saha, Cambodia
The private island of Song Saa is a well-kept tropical island in Cambodia, which is part of a 100-hectare marine reserve. This is a very picturesque and beautiful place. You can get to Song Saa by boat from the port of Sihanoukville - the whole journey takes 35 minutes. Visitors come to a real paradise, where they can enjoy all kinds of water sports, the highest level spa, beautiful virgin oases of rainforest and amazing white sandy beaches. A private island off the coast of Cambodia offers the perfect vacation for only $ 1,500 per night. This is quite a reasonable price, as the island will be completely at your disposal.
Dolphin Island, Fiji
Dolphin Island is an exceptional private island in Fiji that can accommodate up to eight guests and give them an unforgettable island experience. The island reaches 14 acres in size and is designed specifically for a comfortable and private holiday. Guests are pampered with tasty tropical products, relaxing massages, spa treatments, fishing, water adventures, swimming, sailing, water skiing, surfing, jet skiing and many other great adventures. Guests can get here by seaplane or helicopter, and the night on the island will cost from $ 1,700 to $ 2,000.
Kay Melody Island, FL
The mention of Florida is most associated with a busy, turbulent place, but it definitely does not apply to Kay Melody Island. This is the perfect place for a great vacation during your honeymoon, or just for the holidays of your dreams. Due to his uniqueness and fantastically luxurious facilities, Melody Kay became popular among celebrities. Guests of the island can relax in the heated pool or jacuzzi, go fishing, watch the night stars at the campfire, go snorkeling, play golf and tennis, or choose from a variety of other exciting activities.At Kay Melody, beautiful three-story houses await you for up to eight guests. The whole complex of services will cost $ 2000 per night.
Cocos Island, Mauritius
Ile des Deux Cocos is a true paradise for couples, small groups, or day trips from the south-east coast of Mauritius. This wonderful island has a comfortable two-bedroom villa built by the British Governor of Mauritius, Sir Hesket Bell in the 1920s. The villa is adjoined by a picturesque bougainvillea garden, a Moroccan-style courtyard, a private pool and a speedboat exclusively for guests. Several members of the staff serve visitors and fulfill all orders. The terrace offers a view of the waves of the Indian Ocean with a coral reef on the background of white sandy beaches. If desired, you can go diving, or other water sports. A night at the Ile des Deux Cocos will cost you about $ 2000, but this amount is definitely worth such a wonderful experience.
Wadiji Island, Fiji
Wadiji Island in Fiji is a wonderful example of a luxurious private island. Once visiting this place, you will never forget it. After a 10-minute helicopter ride from Nadi International Airport, guests arrive in a real paradise with exotic food, luxury accommodation,absolute privacy and immaculate beaches. Three luxury villas with breathtaking ocean views can accommodate up to six guests. At their disposal there will always be two cooks, room service, a boat with a driver and many adventures on the island. In addition, guests can relax on either of the two private beaches, in the panoramic pool, in the clear waters of the Wadigi Lagoon, go snorkeling and participate in numerous water sports. A night on the island of Wadigi will cost you from $ 2,500 and up.
Brando, French Polynesia
Tetiaroa Atoll in French Polynesia is one of the most beautiful places in the world, and Brando is one of the most unique luxury resorts in this region. Here you can choose any of a dozen islands around the lagoon three miles wide, which will be completely at your disposal. This place was created specifically for lovers of luxury holidays. In the Brando resort you can get from Tahiti in 20 minutes to enjoy a wonderful holiday in any of the 35 secluded villas, enjoy the beautiful sandy beaches, admiring exotic birds and giant turtles.Guests have access to private pools, a tennis court, two restaurants serving Polynesians and many other exotic cuisines, a library, a luxurious spa and an organic garden, among other great facilities. The villa here goes for anywhere between $ 2000 and $ 5000 per night, depending on your requirements.
Necker Island, British Virgin Islands
Necker Island is one of the most luxurious private islands in the world, owned by the owner of Virgin Atlantic, billionaire Sir Richard Branson. This 74-acre island is located north of Virgin Mount in the British Virgin Islands. The luxury resort can accommodate up to 28 guests. Branson spent more than $ 10 million over three years to transform a wild and uninhabited place into an exclusive private island. Necker quickly gained popularity among celebrities who like to spend holidays here. 10 beautifully decorated bedrooms with panoramic windows offer guests a breathtaking view of the island. It also offers private pools, tennis courts, a wide range of water sports and equipment, two private beaches, a personal chef and personal service.To spend day and night on the island of Necker, you will have to part with $ 42,000.
Laukala Island, Fiji
Laukala Island is a privately owned resort for celebrities with 25 unique themed villas providing guests with an extraordinary experience. Island Laukala area of ​​12 square kilometers belongs to the head of Red Bull Dietrich Mateschitz. It is one of three small islands east of Thurston in Fiji, undoubtedly the most luxurious of them. Guests of the resort enjoy exceptional cuisine and top-quality services, including a unique and unforgettable underwater tour for two. Famous guests arrange their weddings, holiday tours, or any other special events. Night on one of the villas will cost approximately $ 3,800.
Ariara Island, Philippines
Ariara Island, 120 hectares in area, has eight villas that can accommodate up to 18 guests. Each of these villas, designed by the outstanding Filipino architect Jorge Iulo, offers a panoramic view of the sea. The villas are located right on the reef, and their wide verandas are extremely comfortable and well decorated. Windsurfing, scuba diving, water skiing and other water sports are among the most popular activities for guests.Be sure to order a tour of the pristine 125-acre tropical paradise, adjacent to the white sandy beach with a length of 600 meters. The 30 members of the service staff will take care of all your needs. Renting an island for six guests costs $ 30,000 per night, and more attractive rates apply for larger groups and longer stays.
Velaa, Maldives
Maldives is undoubtedly one of the best places you can spend your holidays due to the beautiful white sandy beaches, numerous wonderful islands, clear waters and full of unsurpassed beauty. Of the hundreds of islands in the Maldives, Velaa Private Island stands out as one of the most luxurious of them all. This island is owned by Jiří Smedžk, a Czech billionaire who transformed him into the exceptional holiday retreat it is today. Guests have access to tennis courts, golf courses, great restaurants, private pools and a wide range of water activities. This Island can comfortably accommodate 80 guests who have to pay anywhere around $ 14,000 per night for an unforgettable holiday.
Prive Kuda Hithi, Maldives
Imagine a vacation on a private island with a gym, a spa kompleksom, a diving teacher, four pools, and even a library. Prive Kuda Hithi is the place where you can get all of the above, plus an incredibly beautiful view of the Indian Ocean and superb rooms with beautiful interiors and spectacular lighting. This private island embodies the ideals of private life, hosting up to 12 guests at a time. Guests are served by a private chef, a massage therapist, a housekeeper and a driver. Prive Kuda Hithi is a place where rich people can rest from the hustle and bustle of everyday life. Paradise vacation will cost them $ 24,000 per night.
Isla Tagomago, Spain
Tagomago is a 98-acre private island in the Mediterranean, where connoisseurs of luxury and exclusivity can spend a few days. This amazing island is located less than a kilometer from the coastline of Ibiza. You can easily spend the evening having fun in Ibiza, then relax in a quiet and private place on Tagomago. The island has a magnificent villa with five double rooms, a jacuzzi, a swimming pool and everything you need for a good party. The island is surrounded on all sides by turquoise waters and a favorable climate, which makes it an ideal place for luxurious holidays with family, parties,or even for special business meetings. A villa on the island can accommodate 10 adults who will have to pay approximately $ 24,000 per night.
Motu Tane, French Polynesia
Motu Tane is undoubtedly one of the most beautiful and exceptional islands in the Pacific, located in the Bora Bora Atoll region in French Polynesia. The island lies 162 miles north of Tahiti and has 12 beautiful thatched houses with a roof for up to 20 guests. The interiors of these houses are made in the traditional style and are much more comfortable than they seem at first glance. At prices of up to $ 38,000 per night, guests have access to an entertainment room, a fully equipped kitchen and dining room, a romantic huge stone lava bath, underwater tours to a flooded whaler, kayaks, feeding fish, Tahitian banquets and many other exciting activities.
Mush Reef, Bahamas
Musha Reef is without a doubt one of the most luxurious private islands not only in the Bahamas, but also in the world. This 150 acre paradise belongs to David Copperfield. Five beautiful cottages can accommodate up to 24 guests with such amenities, thanks to which you never want to leave the island.There is a cinema on the beach, a billiard table, a tennis court, and even a group of artists for the entertainment of guests. In addition, you can relax on any of the seven beautiful beaches with comfortable open jacuzzi, and 30 members of the staff will immediately help with any problem. Food is prepared by professional chefs who have mastered the subtleties of all the cuisines of the world. They will prepare you a personal menu according to taste preferences. 12 guests can rent the entire island for $ 39,000 per night, but for longer stays the cost can be much lower.
North Island, Seychelles
Such famous couples as the Duke and Duchess of Cambridge, George Clooney and his wife Amal Alamaddin, and many other celebrities rested here. They choose this island as a place for honeymoon, because it is really the embodiment of paradise on earth. With 11 wonderful villas made from environmentally friendly local materials, the North Island easily becomes an ideal location for a couple in search of maximum privacy, luxury, simplicity and an unforgettable vacation. Here guests can enjoy a full-fledged gym, spa, swimming pool, all kinds of water activities and much more.Next, read about the most amazing islands in the world, which is dedicated to a separate collection.
Related news