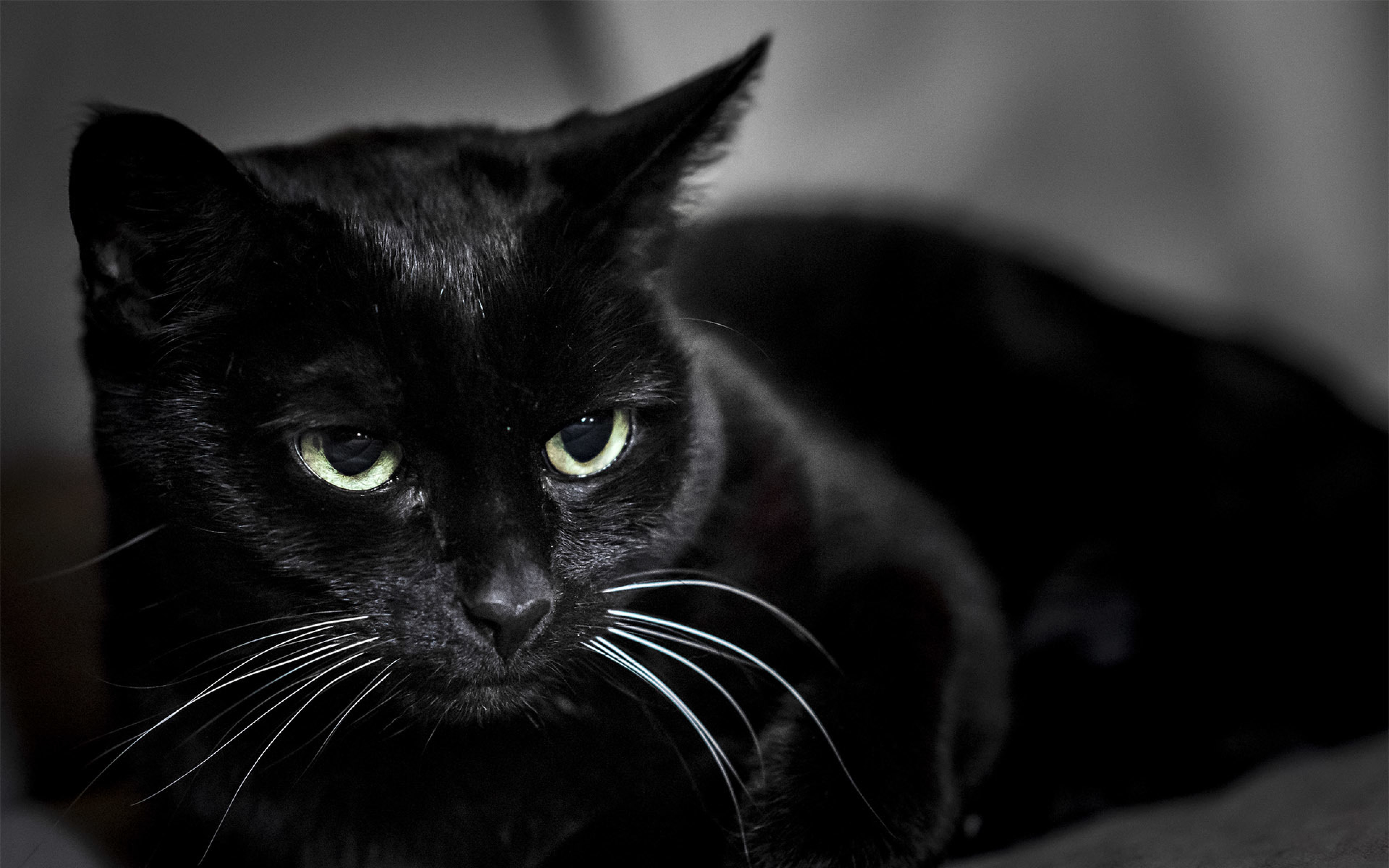 About a black cat, or why you can not believe in superstition?
It is impossible to scatter salt, it is strictly forbidden to pass over the threshold, it is impossible to whistle indoors - superstitions have occupied an important place in human life. But how does the Orthodox Church relate to this? Why so much attention is paid to the criticism of these phenomena?
There are many just wonderful their stupiditysuperstition. Among them especially like the following:
do not sit on the edge of the corner, otherwise you will not marry;
if a black cat crosses the road, then no luck;
how many times the cuckoo says "ku-ku", you will live so much;
send this letter to 10 friends, and happiness will surely come to you. And if not - trouble will happen;
as you celebrate the New Year, so spend it.
It all seems absurdly ridiculous, but only until you meet a person who believes in all this.
On almost every birthday there will definitely be a girl who will ask to plant her just not on the corner. You see, it is this sinister angle, and not, for example, the most inimical nature, pride or laziness that will prevent it from finding family happiness.
There are those who shy away from a black cat and run in the other direction, as if the animal is to blame for the fact that it is from the birth of that color.
And our whole life, it turns out, is in the cuckoo's voice: how much she wants, so much for man and will determine. Why believe in God, change your life, when everything depends on the feathered creature, and not on the Creator? It is clear that true faith and superstition offer completely different views on events and things.
Who does not want happiness? It turns out that in order to attract him, you just need to spam all your friends by mail or send a text on the social network, which you must pass to others. If you fulfill - you will be happy, five at the session, luck in your personal life or something else. If not - luck will be offended at you and will not come again.
For students, the successful passing of the exam depends not on whether he studied conscientiously, but on the books under the pillow or the booklet waving to the window under the shouts: "Shara, come!". "I'm already coming!" - unless the devil can respond to the call.
To have a good year, it turns out, you don't have to work at all. It is only good to meet him. If you want to walk for 365 days - walk, if you want to sing - sing, draw - draw.
And then, if you tell a person that all this is superstition, events in our life do not depend on black cats, spilled salt or horseshoes over the entrance door, you will receive in response: "But this is really true!".
Christian faith and superstition are incompatible
Man is so constituted that he needs to believe in something. If he does not come to God, does not know the meaning of the Gospel, then he is limited to prejudices. True Christianity requires a person of constant volitional effort, thought activity and the reinforcement of his faith with concrete good deeds, conscious participation in the life of the Church.
Superstitions help satisfy the human need to believe. They require no change, believe it. Though utter nonsense, but still believe. Spit over your left shoulder, tap on a tree - and you are already protected. No need to wait for years for the effect. What happens then? If you trust life not to God, but superstition, then you actually give a green card for demonic influence.
After all, it is the evil spirits inspire us to different thoughts. If you once lead on a black cat, then the second time the demons will do everything to push him again.And when something really bad happens, they will send you a concrete thought: the black cat is to blame for everything.
Therefore, a person simply has no reason to hope for the Will of God, to try to change something in his own life. His life now depends on the amount of "ku-ku", and family well-being - from the lock on the Bridge of lovers.
A person, without himself realizing it, becomes, for example, an idolater (it is holy to believe that a horseshoe will protect his house and bring good luck).
So it turns out that we do not rely on God, but on events or things, we are attached to external actions and phenomena. Of course, it is beneficial to the evil one. He finally found an effective method to control us.
Conspiracies, horoscopes, numerology can be a new level of superstition. So that a person does not see through the cunning of demons, he is offered some explanations, affection for the distant, secret, hidden from the eyes of the uninitiated. This is the transition from harmless superstition to magic and the occult. They help to make a person even weaker, vulnerable, dependent not on his own will, but on the actions of others.
But no less dangerous is the penetration of superstitions into the life of the Orthodox.People begin to look for subtexts in the fact that candles crack or go out during the wedding, afraid to take the blessing "through the threshold." It turns out that instead of prayer and sacraments, they are fixated on external manifestations. This lays pseudo-belief in humans.
***
Therefore, superstition is a tool in the hands of weak people. They do not want to put up with the fact that God gave them the opportunity to independently choose and answer for all thoughts, words, deeds. It is better to simply disclaim responsibility and dump it on the cuckoo, a black cat that was late for the ball.
If a person believes in God and trusts him completely, then there is simply no point in attaching to some signs, certain dates, days of the week, to think that something is good and something is bad. Everything created by God is already a priori good. Only our sins can spoil everything, which include prejudices, faith in days, numbers, horoscopes.
Take it to yourself, tell your friends!
Read also on our website:
The Spirit of God teaches to love and pity all living things.
If you want to love the enemy, pity him. Often, the beginning of love of neighbor is pity and sympathy. The saints are compassionate to all living things: people and plants, animals, and even demons who have fallen away from God. A good heart is afraid to harm even a fly. So the Spirit of God teaches the soul to love and compassion.
How to help a person overcome the fear of death
When an unbeliever or a little believer notices the approach of death, he is seized with animal fear of her. Metropolitan Surozhsky Anthony tells how to help him overcome. The main thing here is that the dying not only theoretically, but also experienced, understand that he is rooted in eternity.
Two sides of death
We are afraid of death. And often we forget that there are two sides to it. On the one hand, death is tragic. It separates us from those whom we love, being the result of our falling away from God. On the other hand, it is death that breaks the vicious circle of remoteness from God and opens the door to the heavenly Fatherland.
Everyone judges the other by himself
The spiritual state of a person can be determined by what he thinks about other people. We look at others through the prism of our inner world. So, everything will be crooked to the curve, but as is known, everything that is clean is clean. And even a pure sinner with a pure heart will look like a saint.
Where was paradise
Man is appointed by God the king of the universe. God creates heaven for man, puts it in him. Today it is reliably known that the place of life of the first people, called the Garden of Eden, was on the ground. Where was this place, how did it look and what did Adam and Eve eat?
Euthanasia is intentional suicide.
Life is a great gift given to man by God. During his stay on earth, man must prepare himself for the transition to eternity. No one has the right to take this gift. Even if a person is suffering greatly, neither he nor his relatives should choose euthanasia. Why?
Social networks - what is the danger to the spiritual life?
The modern man is tempted by demons by modern methods - this thought is conveyed to the reader by one of the heroes of the parable-story of Yulia Voznesenskaya, My Posthumous Adventures. And in fact: it is very easy to trace how the devil cultivates in people boasting, vanity, vanity ... through social networks.
Murmur is a sin, homo whiner and 20-year-old schema nun Anna
There is such a type of people - whiners. All of them are constantly wrong. The whole world is against them. Everything is good for everyone, but for them everything is very bad. For grumbling, divine love and mercy, carrying your own cross and the striking example of the 20-year-old schema-monk Anna, see this article.
About the sin of drunkenness, or vodka - the blood of the devil?
Thousands of destroyed families, millions of devastated souls - is it really worth it to pay so much for the sin of drunkenness? The Orthodox Church repeatedly warns: alcoholism harms your physical and spiritual health! But how to get rid of it?
Sin of foul language, or the swearing spirits of demons
For teenagers and young people it is a way to express oneself, for the angry - to let off steam, for nervous ones - to relax. In a tainted world, there are many ways to justify the sin of profanity. Is it bad to throw out the negative with the help of the mat?
The sin of smoking, or Smoking - censes of demons
"Smoking is bad for your health", "bad habit" - such slogans are openly expressed in society.This refers to the physical aspect. The church speaks of the sin of smoking and harm to the spiritual health of a person. What are its negative consequences for the soul and how to get rid of them - read on.
How to save the peace of the soul - 8 tips
If you verbally portray a portrait of a modern person, you'll get a not very attractive picture: he constantly fusses, hurries, thinks how to make more money, how everything is tired, often condemns others and envies. Peace of mind does not fit into his schedule. How to change this?
Why is the Church forbidden to celebrate Halloween?
What does satanic overtones of the holiday of Halloween with All Saints Day have in common? What dangers are teenagers and young people wearing as witches and devils? Let the children go to the Halloween party, or is it better to convince not to go?
Fighting the sin of hypocrisy: the main thing that God will think about us
Let's smile and make a photo for social networks, so that everyone can see how well we had the time! - standard reaction of modern man and banal illustration of the sin of hypocrisy. Even if everything was bad, people should see what is supposedly beautiful.
Related news