Anastasia Sergeeva
18.05.2017
Best books to read in adolescence
We know how difficult it is now to choose what to read to a teenager: it has become too difficult to find "diamonds" among the dominant short-term teenage bestsellers who seem to be created for loud Hollywood film adaptations, as well as modern fantasy, which provides a teenager with a fascinating story, but does not leave him serious food for thought. Therefore, we turned to the proven classics, user reviews and ratings of world print and online publications to identify the really best books for teenagers that they can advise with peace of mind.
Best books for teens - what's worth reading to a teenager
Immediately make a reservation that our review includes only the works of foreign writers checked and recognized all over the world, since the best domestic books for teenagers are a rather extensive body of literature that deserves a separate list.
Alexandre Dumas "The Count of Monte Cristo"
First in the best books for teenagers, we will write down this voluminous novel of the famous French writer, the author of The Three Musketeers and The Countess de Monsoreau. Even some adults find it difficult to break away from the pages of this novel, let alone talk about impressionable and dreamy young girls and young men! In addition, the work is rich and fascinating plot, and arguments on moral and ethical themes, and apt statements that teenagers like to disassemble for quotes and write (or put in the "status" in social networks, to whom that).
It should be said that the book covers a large time period - not years, but dozens of years. The happy life of a young sailor Edmond Dantes collapses in a flash when he is unjustly accused and thrown into the prison of the Chateau d'If. Only fourteen years later, he manages to escape. Calling himself the Count of Monte Cristo, the fugitive decides to find his offenders, who have taken him for so many years and deprived of happiness, and take revenge on them, having broken their lives in the same way.
William Golding "Lord of the Flies"
If you do not recommend this work to your child, or if he himself accidentally does not stumble upon it in such reviews on the best books that everyone (and not just a teenager) must read, then it is quite possible that it will pass by him.He is not even in the school curriculum, with rare exceptions - and in vain, because with the topics raised in it just need to get acquainted in the teenage years. The "Lord of the Flies" will tell them about how cruel outwardly innocent children can be, and people in principle, about the moral degradation of society, the power of power and religion, the essence of man and about humanity in general.
A group of boys miraculously survive after a plane crash and find themselves on a desert island. They understand that they can't expect quick help, and they try to organize their stay on the island in order to survive: they decide who will support the fire, get food, and they also appoint the leader of the group, for which, however, two candidates immediately claimed. And the loser is not going to calm down and obey the order established by someone else, which ultimately leads to completely unexpected and shocking consequences.
Harper Lee "To Kill a Mockingbird"
This novel is just a mandatory item on the list of good teenage literature. This is one of the best examples of how literature can not only enthrall with narration, but also as a result teach the child the correct morality.to talk about such problems of society not only of the last century, but also of modern society, such as social inequality, racism, prejudices of society, shortcomings of education, as well as foster a sense of justice, compassion and kindness in a teenager.
The story is conducted on behalf of Jean - a girl nicknamed Glazastik, who lives with her older brother Jim and dad - Atticus Finch, a single father and part-time honest and fair attorney. Children live, grow, play and communicate with peers in the city, and their main fun is gossip about a certain "Scarecrow" Radley - their neighbor, who for unknown reasons never shows a nose from home. Meanwhile, Jin and Jim's father have to defend a black man unjustly accused of violence against a white American woman at the trial - and the mysterious hermit will have to play an important role in the development of this story.
Related article: How to choose books for teenagers?
Charles Dickens "The Adventures of Oliver Twist"
In fact, many of the books of this famous English writer can be described as the best to read in adolescence, but we and millions of readers around the world agree,that "The Adventures of Oliver Twist" especially deserved this title.
And let the protagonist of this work is still a child, having read this book as a teenager, you can not only be interested in the difficult ups and downs in the life of little Oliver, who has to wander through the slums of London and contact dangerous people, but also fully realize those lessons, which he extracted from them.
Jerome D. Salinger "The Catcher in the Rye"
It is impossible to go past this popular book for teenagers, which almost all teenagers find sooner or later, even if adults do not advise it to them. And this is not surprising, because everyone is still talking about it - after all, and this novel had a significant impact on world literature and the whole culture of the 20th century. Yes, and it tells the book about exactly the same teenager - a sixteen year old boy named Holden Caulfield, who was expelled from a private school for academic failure. He returns home, considering how to inform relatives about this trouble, at the same time meets new people, rethinks old acquaintances, and shares with the reader the flow of his experiences and heightened perception of reality.
An adult who reads such a novel, of course, makes no sense — it will not impress you.And the teenager will not find in this fashionable book of great morality or exciting adventures. But she is likely to be close to him. After all, she is about what worries each of them now, and once worried us in our teens - about finding ourselves, about trying to revolt, teenage depression and unwillingness to understand the world in which adults live.
O. Henry "The Gifts of the Magi"
In the best books for teenagers, we decided to add this touching novel by such an acknowledged master of short stories as O. Henry. Although it was written more than a hundred years ago, it is still very popular with adolescents and very quickly read: and not even because of its short volume, but because of the amazing lightness of the narrative - so we don't even see much sense in the annotations to her. But rest assured: just a few pages are able, absolutely without any vulgarity, to demonstrate to young readers the power of true love, care and readiness to make sacrifices for a loved one, and also that no material wealth can be more important than sincere feelings.
Of course, modern literature for teenagers, in particular, whole series of books in the fantasy genre, also occupy their place in the list of favorite works of teenagers.We will not talk about the book sagas of recent years, but you will learn about the fantastic books of the 2000s to adolescents from the following video:
See also:
Take it to yourself, tell your friends!
Read also on our website:
Books that inspire the most successful people in the world
What books are the rich and famous inspired, for what literature even the busiest entrepreneurs in the world and heads of corporations spare their time? Let's take a look at the shelves of Mark Zuckerberg, Ilona Mask, Bill Gates and other successful people, and find books that motivate them to new achievements.
5 books expected in 2017
Real fans of literature always find time to read the immortal classics, and with no less anticipation wait for the opportunity to evaluate the works of talented modern writers. If you are among the same book lovers, see this collection, where we have combined the most anticipated books of 2017.
How to have time to read books, if time is sorely lacking
Even in the Internet era, when access to knowledge is always at hand, one has only to go to a search engine, one cannot become a smart, competent and interesting person if one does not read books at all. But what to do if you are always in a hurry, and there is no time left for reading? How to read more without prejudice to other matters - find out further.
The best books of 2016: what to read this year?
If your bookshelf needs replenishment, be sure to pay attention to the best books of 2016. What new items this year is definitely worth reading? The works of which contemporary authors of the last five years are recognized as one of the best to date? Read about it in our article.
Stephen King: interesting facts about the writer
Probably, few people have not read the books of Stephen King, have not seen the film adaptation of his novels and short stories, or at least have not heard anything about this outstanding science fiction writer. But in the article we will consider not only the creative, but also the life of the author, thanks to which he became who he is now.
TOP-5 Russian science fiction writers of the XX-XXI centuries
Do you know Russian writers who write works in a fantastic genre? Would you like to read books by such authors? In this article, we present an overview of five domestic science fiction writers of the XX and XXI centuries, whose works are recognized as one of the most famous and interesting to a wide audience.
10 best domestic books of our time
Contrary to the popular belief that modern Russian literature is in complete decline, worthy readings of Russian books continue to appear on store shelves. So that the best Russian novels of the 21st century definitely do not go unnoticed by you, pay attention to our review.
Book crossing: read - give to another
Have you ever lost a book ... intentionally? Hundreds of thousands of people all over the world are ready to give a positive answer to this question - and all because they were captured by a unique social movement called bookcrossing. What is it and how to join it? Read about it in our article.
List of books that everyone should read
If you are tormented by the question of which book you will read next, then you are here. Here you will learn what kind of books there are that every person should read, and, perhaps, look at your own literature among the most widely read books in the world.
How to choose books for teenagers?
Among today's literary diversity, it is very difficult to find a good and decent book that the teenagers would like. How to choose books for teens, what to look for - read in our article.
Business literature - learn to choose the best
Business literature requires a competent approach to yourself - by choosing a dubious book, you risk wasting not only money, but also precious time. In our article you will learn how to choose the right books for business, so that the result will not leave you disappointed.
Related news
Best books to read in adolescence
Best books to read in adolescence
Best books to read in adolescence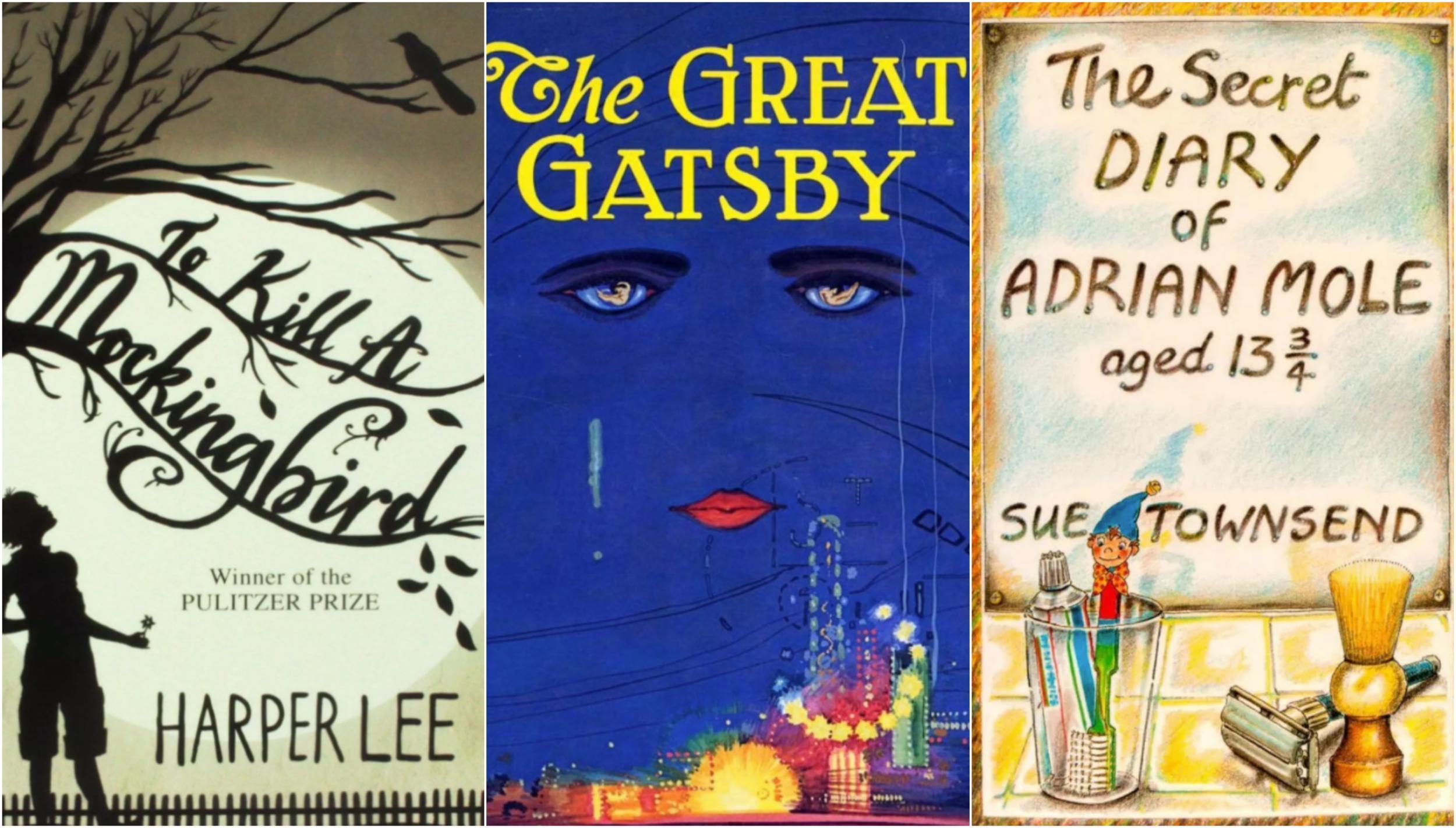 Best books to read in adolescence
Best books to read in adolescence