Halloween - the essence and purpose
The sorcerers have the biggest holiday of the year - Halloween, which in recent years has been imposed on us by the so-called. "reformers". On this date - October 31 - in plain text says in any textbook on black magic.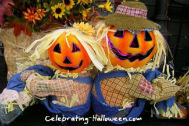 This holiday was introduced to the masses in order to draw people into the funnel of black magic and madness. And the people bought it - they get drunk, dress up and have fun dressing up in evil and frightening each other ... And at this time demons and other evil forces are infiltrating them. The Satanist sorcerers themselves celebrate everything seriously, unlike the mass of newbies. Here they have both magical rituals, a sabbath, and human sacrifices ... That is, with these rituals they send hordes of evil into the crowds of carelessly amusing and relaxing people ...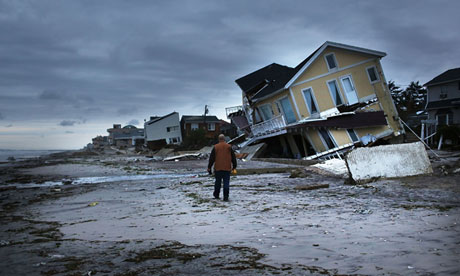 But everything ends sometime. It is time to collect stones and Satanists. In 2012, for the first time in history, a parade on Halloween was canceled in New York due to the effects of Hurricane Sandy. Up to 1 million people annually took part in these Satanic parades! But they infect not only their country with such large-scale events,but the whole earth! And year after year, this holiday is increasingly celebrated in many countries, including Russia and the CIS countries. The tradition, which has almost 40 years of history in New York, has never been interrupted. But after the "Sandy" storm, the Americans no longer felt like celebrating Halloween ...nipped offmassive follies of the people! God seems to be saying to Americans: "Enough to rage!"
And we, too, it is time to come to our senses! What are we celebrating? The arrival of the Antichrist? Why should we adopt Satanic holidays from the West? Especially since we have many wonderful holidays associated with our glorious history and feats of our ancestors, which we so eagerly make us forget and dance with devils and witches! This week we have a wonderful celebration of the People's Unity (November 4), which marks the unity of the people in the liberation of their homeland from internal turmoil and external invaders! The feat of Minin and Pozharsky is what we and our children should celebrate, not sew the costumes of witches and vampire dead!

Here's a look in Yandex search, what our children and young people are looking for and doing in the week of this very Halloween - almost 500 thousand requests per month on Halloween!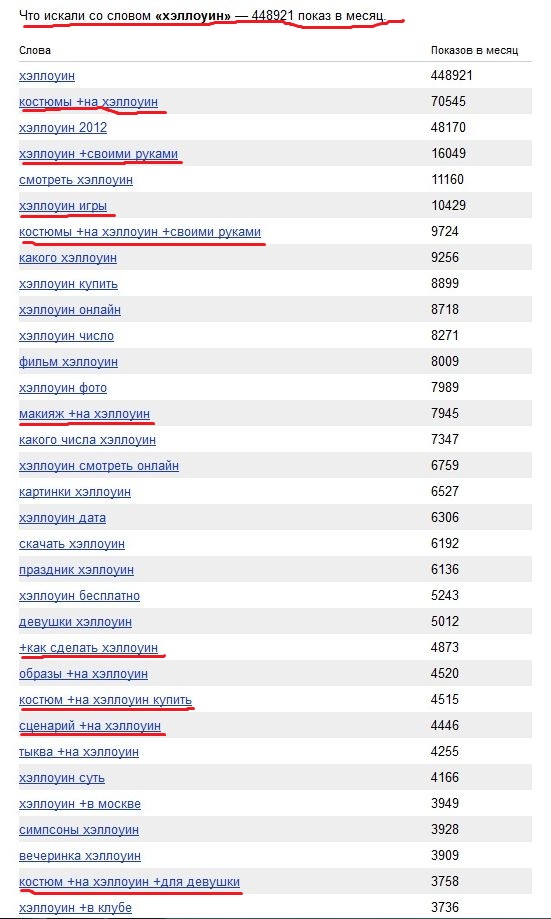 No, you just see what requests:"halloween costumes", "how to make halloween", "halloween make-up", "do-it-yourself halloween"and so on. And after all requests are not unique, tens of thousands of users, obviously children, teenagers, young men and women are literally going crazy! And with such Satanic holidays, flirting with evil spirits begins: mental abnormalities and obvious schizophrenia, drug addiction and suicides, violence and sodomy. All this does not necessarily manifest immediately.

And when a natural tragedy occurs in the family after some time, everyone already, as a rule, forgot about the "innocent mischief" and the costumes of evil and dead men, which they donned on this terrible night. Intelligent believers on this night pray hard and fast that the dark forces do not interfere in their lives! And the madmen dance in the costumes of evil spirits and thus become one with it. A terrible sin for all participants and no less a terrible sin for parents and organizers that made it!
Take it to yourself, tell your friends!
Read also on our website:
Halloween - old traditions and new trends in parties
Halloween - new ideas for an unforgettable party.Some ideas for the celebration have already begun to bother with their predictability. We offer you a better way to learn about old traditions and new interesting trends that will help you to have a fun Halloween party.
Halloween is a terrible holiday can be beautiful
Autumn is such a great time: bright trees and bushes painted in the red sun, light, barely visible cobwebs floating in the cold air, a purple sunset and a dark night sky, which is filled with bright stars giving mysterious signs. Among the moonlit trunks of the moonlight, branches and grass, pumpkin lamps shimmer to inviting Halloween.
Costumes for Halloween: how to stay yourself?
What is an integral part of a theme party or holiday? Of course, carnival costumes. Halloween is complete without them. And since he has undergone semantic changes, has become a celebration of surroundings, extravaganza, evil spirits and has already turned into a massive night festivities, then the outfit should be extravagant and individual.
Archbishop of Zaporizhzhya Luka: Halloween - a testimony of devil worship
The ruling lord warned the local authorities against organizing the celebration of Halloween in Ukrainian schools. He addressed the Zaporozhye officials with a message in which he recalled that flirting with the forces of evil could not bring children anything good.
What you didn't know about Halloween
Why is this holiday causing a storm of controversial opinions? Some rejoice at the demonic masquerade, the second with horror watch the procession of monsters and monsters walking the streets of the city, the third adhere to the policy of "non-intervention", while maintaining neutrality.
Halloween is a deadly holiday
Children's fears, neuroses, mental disorders, unmotivated aggression, nightmares, "voices" - these are, according to scientists, the consequences of the celebration of Halloween. It is with such symptoms that doctors face a few weeks after October 31.
Halloween is not just a holiday!
But did you know that if God sends us a guardian angel, then Satan is a destroyer demon, and people are now celebrating the coming of this same demon on the Halloween holiday! Agree, the real madness is to celebrate your doom, because ...
The hidden truth about "funny" Halloween
After years of isolation, our people greedily absorb elements of foreign traditions and culture. One of these "innocuous" masquerades is Halloween. Few people know what is really hidden behind the screen of the atmosphere of general fun and innocent tomfoolery.
Halloween: Should I Ban? (Poll)
Regional ministries of education do not recommend celebrating Halloween in Russian schools. But there is no official ban on this holiday. The network offers scripts for "school Halloween", and in stores there are stands with holiday attributes.
Halloween is a scary guide between us and dark forces.
If you are in your right mind, think: why are you celebrating the coming into this world of evil forces, demons and the devil? This impure force exists in order for a person to suffer from various diseases, be in a depressed state, become angry and irritated. Particularly affected by demons are children ...
What after Halloween?
Halloween celebrates the celebration of Halloween as a sin if you are celebrating this holiday yourself, and a grave sin if you involve children and other people.
Related news