Nanny Doss - a woman who for decades has killed her relatives and spouses
"I was looking for the perfect life partner," said Nanny Doss after she was arrested on suspicion of murdering her spouse, "true love in life."
Having admitted his guilt in the murder of his spouses, Nanny Doss leaves the district attorney's office and is sent to a prison cell
Nanny Doss seemed like a nice married woman. She smiled and laughed all the time. She had four children, and she loved spending time with her grandchildren.
However, behind the mask of a benign lady hid a cold-blooded murderer, who since the 1920s, 1954 has sent over a dozen people to the world. It was in 1954 that Nanny Doss confessed to the murder of four of her spouses, and, according to the authorities, she may also have killed quite a few blood relatives.
Nanny Doss was born in a family of farmers in 1905 (Blue Mountain, Alabama). Instead of going to school, all five children of Jim and Louise Hazel worked on a family farm.
At the age of seven, Doss suffered a head injury while riding a train. It changed her life forever.
In her teens, Doss began to dream of an idyllic life with her future husband. She devoted all her free time to reading romantic journals, especially the columns "Lonely Hearts". Perhaps this occupation was an escape from a cruel reality: Father was insulting Nanny, and his mother turned a blind eye to it.
And then the marriages began.
At the age of 16, Nanny Doss married a man with whom she had known only four months. From 1921 to 1927, Doss and Charlie Bragggs made four children. In the end, the marriage broke up. The couple lived with Braggs' mother, who insulted and humiliated Nanny in every way, as her father had once done. Perhaps it was the behavior of the mother-in-law that prompted her to the first murder.
In 1927, two Doss children died under mysterious circumstances. They were completely healthy, and then suddenly died for no apparent reason.
Spouses divorced in 1928.Bragggs took the eldest daughter Melvina for upbringing, and left the newborn Florin to his ex-wife.
Nanny Doss during interrogation
A year after the divorce, Doss married a second time. Her new husband was a fierce alcoholic from Jacksonville, Fla. Named Frank Harrelson. They found each other thanks to the "Lonely Hearts" rubric. Harrelson wrote Doss romantic letters, in response, she sent him naughty stories and photos.
Despite all the problems, Doss's marriage with Harrelson lasted 16 years - until 1945. During this period, Nanny allegedly killed her newborn granddaughter with a hairpin. A few months later, her two-year-old grandson, Robert, left behind as a grandmother, suddenly died of asphyxiation. These were the children of Melvin, the daughters of Nanny from their first marriage.
Harrelson was next on the list of victims. Doss put a secret ingredient into his hidden bottle of moonshine, and a week later, on September 15, 1945, he died.
Everyone believed he died from food poisoning. Meanwhile, Doss received an insurance payment in connection with the death of Harrelson and acquired a piece of land and a house near Jacksonville.
Arly Lanning of Lexington, North Carolina, died in 1952, several years after he met Doss through the Lonely Hearts column. All these years, Nanny was an exemplary and caring wife, but one day she added poison to Lanning's food, and he soon passed away. He liked to drink, so doctors blamed a heart attack on alcohol abuse.
Richard Morton of Emporia (Kansas) became Doss's next true love, despite the fact that he cheated on her left and right. She did not give him an intrigue on the side of special attention, because she was busy with other things.
Doss's mother needed care after she fell and broke her leg in 1953 (by that time her father was already dead). The woman died a few months after Doss agreed to look after her. Then, under mysterious circumstances, one of the Doss sisters died.
Doss was too concerned about her mother's health to worry about Morton's treachery. But as soon as she "took care" of her mother and sister, she immediately switched to her prodigal husband.
In general, he also died under mysterious circumstances.
Authorities Interrogate Nanny Doss
The last victim of Nanny Doss was Samuel Doss of Tulsa (Oklahoma). He was not an alcoholic or a cruel man. He simply had the imprudence to tell his wife that she was too much into educational magazines and broadcasts.
After that, Doss baked a plum pie with poison. Samuel spent a whole month in the hospital. A few days after he returned home, Doss finished him off with poisoned coffee.
And it was her fatal mistake.
The doctor who treated Nanny's fifth and last husband suspected that something was wrong while Samuel was in the hospital, but he had no evidence. Subsequently, he convinced Nanny, who was to receive two insurance payments in connection with the death of her husband, to allow him to undergo an autopsy. As a result, he discovered an enormous amount of arsenic in Samuel Doss's body and reported it to the police. Nanny Doss was arrested in 1954.
Soon, she confessed to killing her spouse, but not family members.
Authorities exhumed the bodies of previous Doss victims and found a huge amount of arsenic or rat poison in them.
According to the authorities, Nanny Doss killed at least twelve people who were her blood relatives.
Doss called the cause of her thirst to kill a traumatic brain injury. Journalists called her the Giggling Grandmother, because every time Nanny talked about how she dealt with her late husbands, she laughed.
Nanny doss on questioning
The strangest thing is that the motive for the killings was not at all the money that Doss was paid by insurance companies. According to her, romantic magazines had a significant impact on her psyche. "I was looking for the perfect life partner, true love in life," she said.
When her husband got bored, Doss just got rid of him and started looking for the next love ... or sacrifice. And since all her husbands had health problems, the doctors and the authorities had no idea about anything.
Nanny Doss died in prison in 1964, serving a life sentence for the murder of her last spouse.
Related news
Nanny Doss - a woman who for decades has killed her relatives and spouses
Nanny Doss - a woman who for decades has killed her relatives and spouses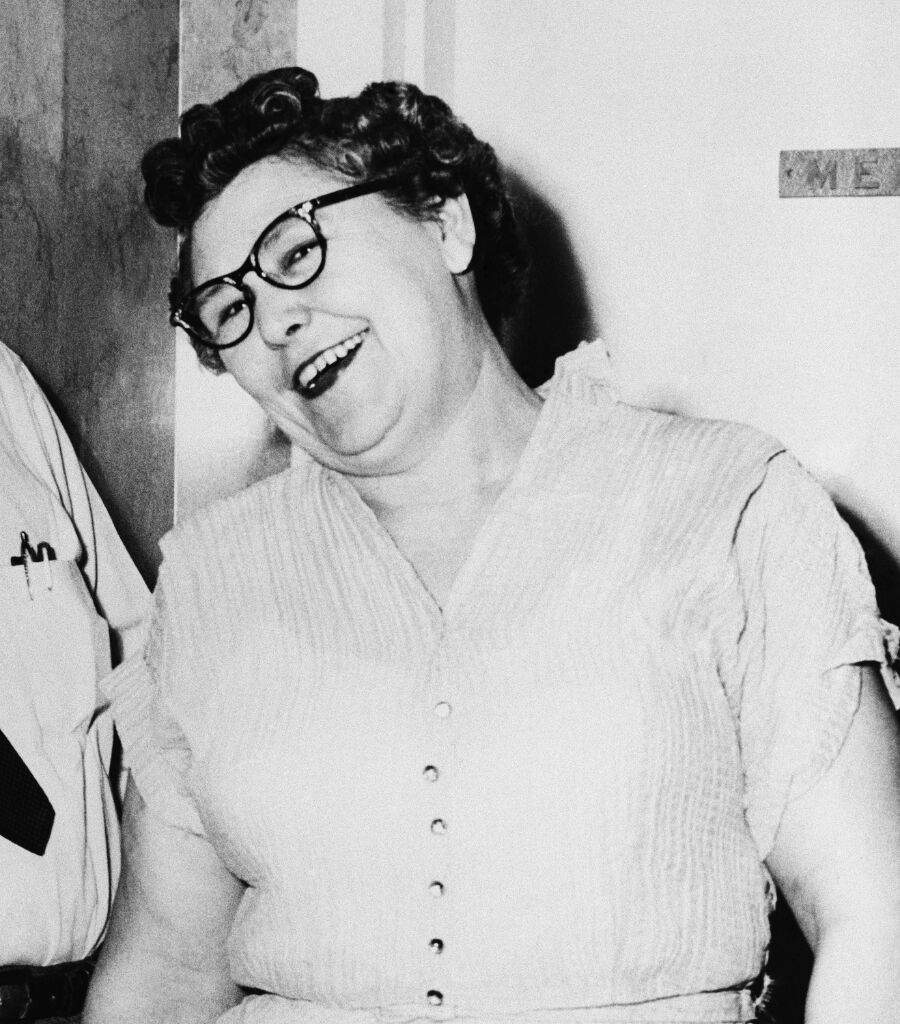 Nanny Doss - a woman who for decades has killed her relatives and spouses
Nanny Doss - a woman who for decades has killed her relatives and spouses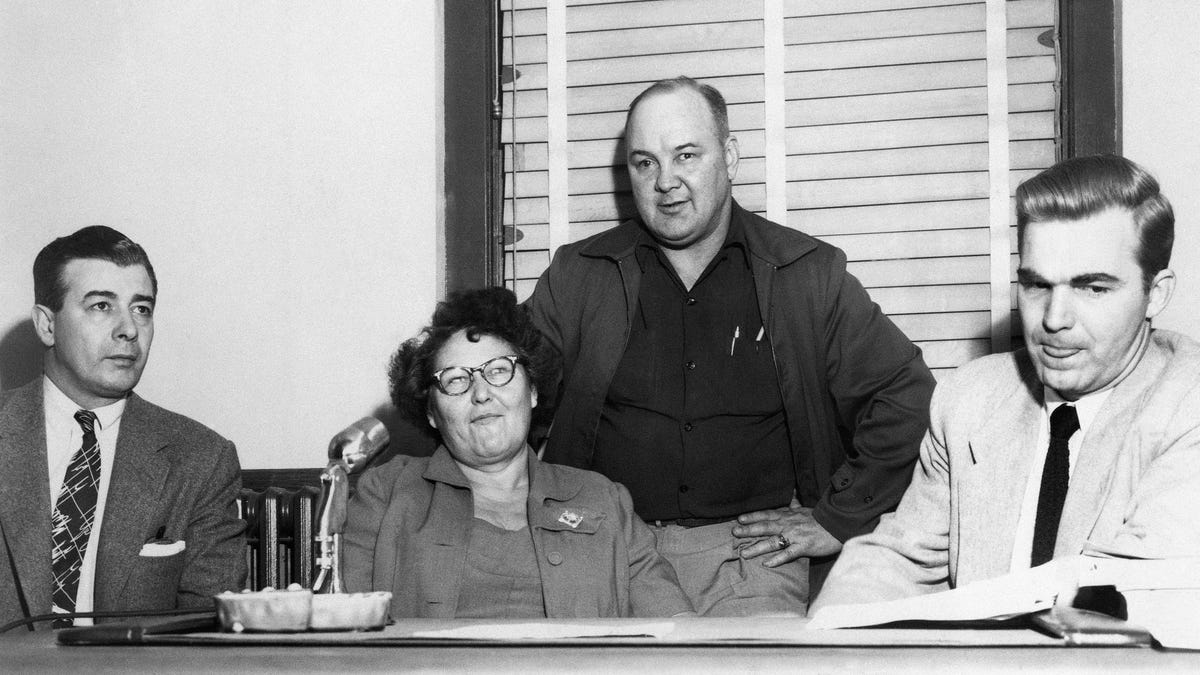 Nanny Doss - a woman who for decades has killed her relatives and spouses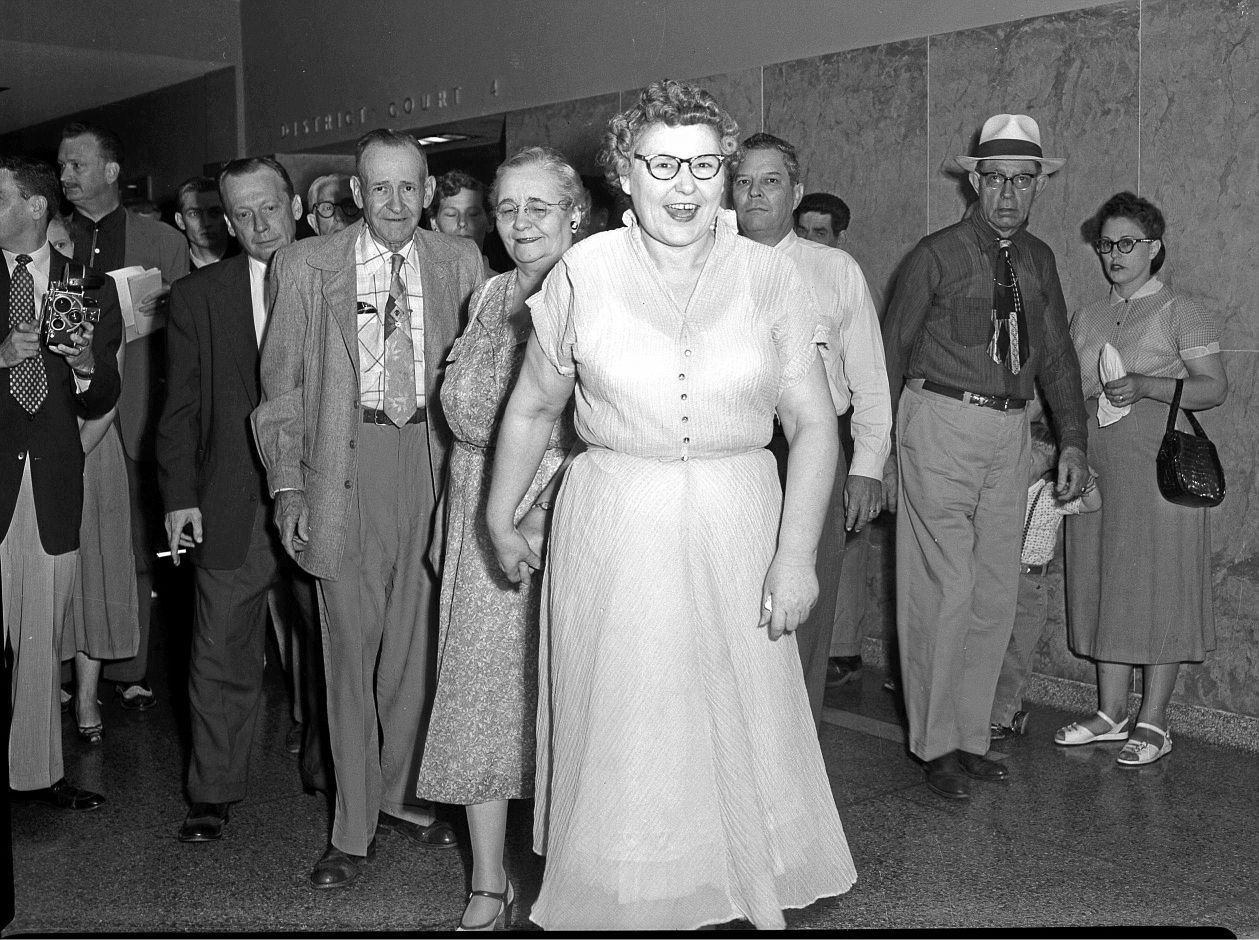 Nanny Doss - a woman who for decades has killed her relatives and spouses
Nanny Doss - a woman who for decades has killed her relatives and spouses
Nanny Doss - a woman who for decades has killed her relatives and spouses
Nanny Doss - a woman who for decades has killed her relatives and spouses
Nanny Doss - a woman who for decades has killed her relatives and spouses
Nanny Doss - a woman who for decades has killed her relatives and spouses
Nanny Doss - a woman who for decades has killed her relatives and spouses
Nanny Doss - a woman who for decades has killed her relatives and spouses
Nanny Doss - a woman who for decades has killed her relatives and spouses
Nanny Doss - a woman who for decades has killed her relatives and spouses
Nanny Doss - a woman who for decades has killed her relatives and spouses
Nanny Doss - a woman who for decades has killed her relatives and spouses
Nanny Doss - a woman who for decades has killed her relatives and spouses
Nanny Doss - a woman who for decades has killed her relatives and spouses
Nanny Doss - a woman who for decades has killed her relatives and spouses
Nanny Doss - a woman who for decades has killed her relatives and spouses
Nanny Doss - a woman who for decades has killed her relatives and spouses
Nanny Doss - a woman who for decades has killed her relatives and spouses
Nanny Doss - a woman who for decades has killed her relatives and spouses
Nanny Doss - a woman who for decades has killed her relatives and spouses
Nanny Doss - a woman who for decades has killed her relatives and spouses
Nanny Doss - a woman who for decades has killed her relatives and spouses
Nanny Doss - a woman who for decades has killed her relatives and spouses
Nanny Doss - a woman who for decades has killed her relatives and spouses