Recipes: a selection of sites
by date
by name
by popularity
by difficulty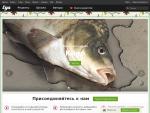 Poster-Food - recipes and culinary blogs
The site is a kind of community of people who love to cook and surprise with their masterpieces. All users can compile their own book of recipes, follow the updates of certain authors and actively participate in this culinary get-together. The authors of the best blogs and dishes have their own rating, based on the number of subscribers and published materials. So even beginners have something to strive for, because everyone can get points.
http://eda.ru/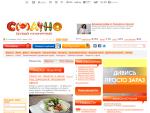 Delicious - culinary portal, recipes, diets, menu
The site has collected a huge amount of information about food, cooking recipes, the intricacies of culinary skill. The abundance of categories will allow you to find exactly what you need. In addition to recipes of varying complexity with step-by-step photos, here you can get advice from leading experts in the field of nutrition and dietetics,start your own culinary blog and share recipes in it. You can read the latest news and track the results of your favorite culinary TV programs.
http://www.smachno.ua/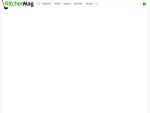 KitchenMag - cooking portal
The site contains useful and interesting information about food and nutrition. Myths about products, how to stay beautiful and healthy, the rules of etiquette at home and in a restaurant, which of the products with what to combine. Simple navigation allows you to select the desired category - appetizers, salads, first and second courses, pastries, desserts, drinks. There are also vegetarian recipes. All this is decorated with colorful and appetizing pictures that inspire you to create your own culinary masterpieces.
http://kitchenmag.ru/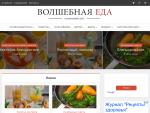 Magic food - culinary site
The site is divided into convenient subcategories that facilitate the rapid search for relevant information. Here you will find recipes for the multicooker, children's menu - a variety of mashed potatoes, soups, harmless sweets and much more. Lovers of proper nutrition will enjoy the relevant section containing articles, recommendations on nutrition for pregnant women, vegetarian dishes, therapeutic diets.Separately painted useful properties of products, given tips on what ingredients with what is better to combine.
http://volshebnaya-eda.ru/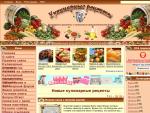 Culinarysite - recipes with step by step cooking
The site is dedicated to culinary recipes with photos and a detailed description of the process of their preparation. The resource will be useful both for inexperienced beginners and housewives, and just for fans to treat yourself to a delicious dish. All information is divided into categories - from cereals and casseroles to sushi and cakes. Handbook of the culinary specialist will help to understand incomprehensible terms, and the culinary forum will allow you to share experiences or ask professional advice. "Mistress on the note" - a heading tips for home and family.
http://culinarysite.ru/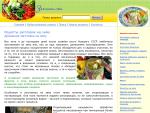 Snacks - recipes blanks for the winter
Get ready for the winter season with the website "Zakatki.com". Home canning is a tradition that allows even in the cold season to enjoy the colors and taste of summer. Here you will find recipes blanks favorite all cucumbers, tomatoes, eggplants and peppers, as well as stewed fruit, jams, cranberries, jams, jam, jelly, dishes from mushrooms and berries. Useful tips will tell you how to choose the right container for seaming, high-quality salt, soak, sour, freeze and dry ...
http://zakatki.com/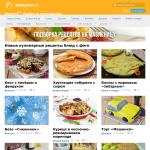 Recipes for every day
Cooking a tasty dish is a real work. And it needs to be done daily! How realistic is it to diversify the everyday menu? About this - on the pages of the Webspoon site. Here you can find simple and quick cooking recipes for every day, useful tips for beginners and experienced chefs. Convenient search in the database by type of dish, kitchen, cooking time. The authors state: the cardinal difference of this resource is that the main emphasis is placed on the impeccable quality of the presented dishes.
http://webspoon.ru/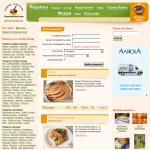 Russian food is all that they eat!
The site contains recipes of Russian cuisine from the beginnings to the present day. Russian cuisine has long been famous for its first courses. You will surely diversify your menu and learn how to cook real borscht, botvinia, beetroot soup, pickle, soups, soup, cabbage soup and sweet soups. On the second - stuffed cabbage, stew, zrazy, vinaigrette, saute and cutlets - all the most favorite. A great variety of recipes from world cuisines, super-search service, forum and mailing lists. This resource is the winner of the "Best Site" contest.
http://www.russianfood.com/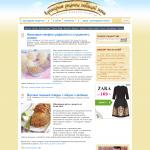 Cooking recipes loving wife
What kind of loving wife does not want to please her husband and home delicious, healthy and unusual foods ?! This culinary blog, existing for several years - a real find for all family women and not only. These are more than two thousand dishes collected on one resource: recipes for hot and cold snacks, sweet and lean sauces, rolls and rolls, jelly, puddings and mousses, desserts made from fruits and berries. You can create a personal "Recipe Book" and create your own collection of recipes.
http://www.zefira.net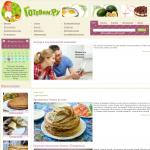 "Preparing.ru" - culinary site
"Prepare.ru" is an electronic collection of recipes. Do you know what abondance, neuchâtel, quarts and emmental are? Using the original culinary encyclopedia, you will certainly find the answers to these questions. Conduct dialogues on the forum about the traditions of universal cooking, visit the fair of ideas, start the day with a smile in the "Humor" section, read tales of wandering. The portal is ready to share with you fresh news in the field of culinary art and listen to your own opinion.
http://www.gotovim.ru/
Culinary Club
Do you like to cook for the whole family? Can't imagine your life without culinary delights and novelties? Welcome to the Club of Culinary! Here you will find a great many recipes,broken into collections: breakfast meals in the microwave, refreshing soft drinks, treats for the festive table, desserts with garden berries, unusual combinations with exotic fruits. Log on to the site using your social media accounts. Cook with joy and love!
http://www.koolinar.ru/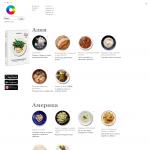 Talerka - cook and travel
Take an intercontinental culinary journey with the site Talerka.tv. The author of the project is Andrey Azarov, a professional designer and amateur cook. The site is divided into headings, each of which represents a separate continent of our planet. Asia - oriental flavor with an abundance of spices, America - sandwiches, cheesecakes and not only, Africa - an absolute exotic for us, Europe - a familiar and familiar kitchen. Each recipe is accompanied by a video and comments of the author.
http://talerka.tv/ru/recipes
Kuking.net - Culinary Portal
The portal positions itself as the largest and most honest culinary site of the Russian Internet. It has existed for more than 10 years, during which more than 100 thousand different recipes have been tested and published. Millions of visitors use the resource to compile their daily diet, and also share their findings and inventions, comment and help each other.Take a virtual tour of Kuking.net and get acquainted with all the features of the site.
http://www.kuking.net/
Cook at home
Culinary community "Cooking at Home" was created specifically for those who love cooking, for those who do not stop there, but strive to improve their skills and express imagination in the process of cooking. If you do not like simple fried eggs, welcome here. Prepare plum sauce - tkemali, arrange a holiday for a child with a bright mash, learn all the secrets of invert syrup, sugar fudge and marshmallow mastic - it's all in your hands!
http://gotovim-doma.ru/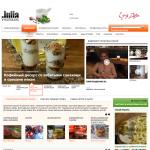 "Eat at home" - the site of Julia Vysotsky
"Eating at Home" is a kind of club of connoisseurs and lovers of tasty and high-quality homemade food. The site has a video blog of the author of culinary bestsellers - actress Julia Vysotskaya, where she shares her thoughts and ideas. You can choose a video recipe by the date of broadcast of the famous TV show, choose a diet for children from six months, make a menu for losing weight from low-calorie dishes, as well as learn kitchen appliances and learn about the features of national cuisines.
Related news
Recipes: a selection of sites
Recipes: a selection of sites
Recipes: a selection of sites
Recipes: a selection of sites
Recipes: a selection of sites